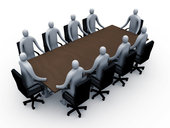 Lackawanna Trail Board of Education Meeting Dates Info
Closed Executive Sessions are typically held before and after every Open meeting
The Pennsylvania Department of the Auditor General conducted a performance audit of the Lackawanna Trail School District
for the period January 29, 2010 through September 7, 2012 and found that the District's Board of School Directors
repeatedly violated the provisions of the Sunshine Act related to executive sessions. [click to read report]
Great Article [here] about the Misuse of Executive Sessions. What is legal and what is a Criminal Offense against us all

WARNING SIGN: Are executive sessions held before and after every board meeting?
Do your executive sessions take up as much or more time as your actual public agenda?
Do Public meetings routinely start late due to poorly administered Executive Sessions?
Now there is THE GENERAL ASSEMBLY OF PENNSYLVANIA HOUSE BILL No.1671 Session of 2013
INTRODUCED BY SACCONE, MALONEY, ROCK, KORTZ AND MILNE, SEPTEMBER 3, 2013
REFERRED TO COMMITTEE ON STATE GOVERNMENT, SEPTEMBER 3, 2013
to clarify and improve the existing Sunshine Act [details here]
Executive session does not gag participants
PNA note: The Sunshine Act allows, but does not require, private deliberations in certain limited circumstances.
That law does not prohibit participants in executive session from later discussing the issues outside the private meeting.
LTSD Lackawanna Trail Super Domain School Board Meeting Dates 2015 2016 2017 2018 2019 2020 2021 2022 Information Open Closed Work Sessions Sunshine Law LT SD LTSD LTHS LTEC Factoryville 18419 Wyoming County Clinton Township Pennsylvania Nicholson Dalton not Official LTSD.ORG
LTSD Lackawanna Trail Super Domain School Board Meeting Dates 2015 2016 2017 2018 2019 2020 2021 2022 Information Open Closed Work Sessions Sunshine Law LT SD LTSD LTHS LTEC Factoryville 18419 Wyoming County Clinton Township Pennsylvania Nicholson Dalton not Official LTSD.ORG